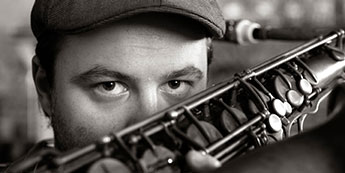 Just a quick note to giving you an update on upcoming gigs and concerts this upcoming summer. We're setting up concerts for Jan Sturiale 5tet with Jure Pukl to promote "Do Not Disturb The Peace" in Festivals this upcoming summer!
08.10.12 | 9.30 P.M. "Farra Sotto le Stelle" Music Festival – Farra (GO)
Jan Sturiale: guitar
Alba Nacinovich: vocal
Alessandro Turchet: double bass
Luca Colussi: drums
Read more on Jure Pukl
Jure Pukl One of the most profilic and creative saxophonists of the younger Slovene jazz generation, Pukl obtained university education abroad. Having completed music high school in Slovenia, he studied classical saxophone at the Vienna Music Academy, and jazz saxophone in Vienna as well as at the Haag Conservatory of Music.
Jure then won a scholarship to the prestigious Berklee College of Music, where he pursued his studies with masters such as Joe Lovano, George Garzone, Dave Santoro, Greg Hopkins and Ed Tomassi. He completed his masters degree in music at the Graz Academy of Music. Throughout his studies Pukl performed and recorded extensively, being engaged in his own projects, as well as working with a number of Slovene and foreign jazzmen, such as Maceo Parker, Esperanza Spalding, Aaron Goldberg, Jeremy Pelt, Jamire Williams, Howard Curtis, Renato Chicco, Bosko Petrovic, Johnatan Blake, Francisco Mela, Miles Griffith, Aruan Ortiz, Mike Janisch and orchestras like Big Band RTV Slovenija, European Jazz Orchestra, European Movement Jazz Orchestra, Vienna Saxophone Quartet, NouveleCousine, Berklee Concert Jazz Orchestra, Studio Dan and many others.
His music has won him many awards; among others the 2005 first Jury Prize and Best Composition Audience Award at the Jazzon International Music Workshop and Festival in Novo mesto, Slovenia. In his auctorial projects, such as the Virus quintet (receive rave reviews, among others on the influential Allaboutjazz Web portal) Pukl dedicates himself to modern interpretations of jazz. What he creates is a unique type of modern jazz, avantgarde, free jazz and impressionistic contemporary music performed with a great deal of knowledge and love, giving prominence to the interplay between band members.
He already published 5 CD's under his own name, the second last one came out on Vienna's national radio-TV music label ORF and was recorded live at the famous Graz jazz club Stockwerk and the last one EARchitecture on Session Wrok Rec in Vienna. He is also featured on more than 25 CD projects as a sideman.
To get details on location: Coming Soon!
Peace Out JAN