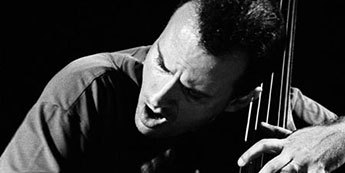 We will play in quartet with Giovanni Maier, Gabriele Cancelli and Federico Chiarion. A project on Ornette Coleman music.
07.09.12 | 9.30 P.M. "Wine Cafè" – Gorizia
08.09.12 | 9.00 P.M. "Teatro Gustavo Modena" – Palmanova
Gabriele Cancelli: trumpet
Jan Sturiale: guitar
Federico Chiarion: drums
Read more on Giovanni Maier
Composer/bassist Giovanni Maier started his professional career in 1986 at the age of 21, after finishing his formal studies in classical music at the "G. Tartini" Music Academy in Trieste and having pursued independently his personal interest in jazz music.
In 1986 he co-founded the Transition Jazz Group and, with this and other ensembles, began to write and perform original music in Italy and Europe. In 1989, he formed his first ensemble to perform his own compositions, and has since recorded over forty albums featuring his work.
As a member of ensembles, he has performed in many concerts throughout Europe, in North and South America, Japan, North Africa and the Middle East.
As a bassist he features on over 140 albums, including recordings with Enrico Rava, Gianluigi Trovesi, the Italian Instabile Orchestra, Cecil Taylor, Anthony Braxton, Tim Berne, Marc Ribot, Keith and Julie Tippett, Louis Moholo, Giancarlo Schiaffini, Pino Minafra, Roberto Ottaviano, Carlo Actis Dato, Tiziano Tononi, Daniele Cavallanti, Stefano Battaglia, Michele Rabbia, Chris Speed, Scott Amendola as well as with other leading figures in creative music.
He is currently active as a solo contrabassist, composing for, and performing and recording with, a variety of ensemble projects.
Giovanni Maier is also actively engaged in the field of education through the presentation of workshops and as lecturer at the "G. Tartini" Music Academy in Trieste. Since 2000, his Palomar Records label has released thirty albums.
Peace Out JAN