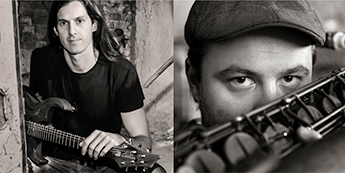 I'm very happy to announce our mini series of concerts in North Italy this Spring 2014 starting on March 25th in Trieste.
This time you will hear the music of the Trio with slovenian saxophonist Jure Pukl who recently moved to New York where he had the opportunity to perform with Adam Rogers, Nir Felder, Esperanza Spalding, Damion Reid and many others.
"Pukl's amalgam of sound and approach stamps him as a musician who essays CREATIVITY into a fine art." Jerry D'Souza | ALLABOUTJAZZ 2011
"Jan Sturiale is part of the unconventional group of jazz musicians that mix the tradition of creative jazz language with the spirit of rock music and a classical background. His ability to translate his varied musical influences into a coherent jazz language gives his compositions a distinctive character. | JAZZ IN EUROPE 2013
Jan Sturiale Trio feat. Jure Pukl concerts will be marked by a creative blend of ingredients such as jazz, rock and other modern sounds-all backed by a brilliant technique and a powerful rhythm section.
Jan will join Jure Pukl, Marco Panascia and Ziv Ravitz this April 2014 for a recording date at the Shape Shifter Lab in New York. On 17th and 18th Jan will mix his next record Jan Sturiale "Electric Water" recorded together with Bob Reynolds, Vardan Ovsepian, Damian Erskine and Tatiana Parra. Stay tuned for more dates in U.S.!
We hope to see you!
Jan, Jure, Alessandro and Luca
Jan Sturiale Trio feat. Jure Pukl
Jan Sturiale: guitar
Jure Pukl: tenor sax
Alessandro Turchet: double bass
Luca Colussi: drums
For more information and details on venues, locations and concerts time click HERE